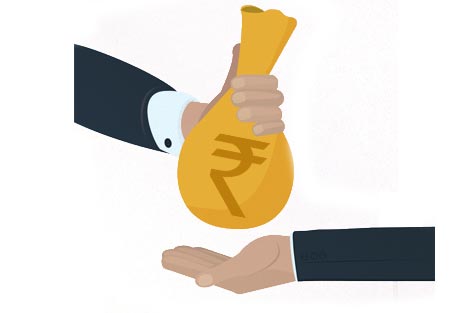 Personal loan is the amount borrowed by any individual person to meet his/her personal requirements. Personal loan is an unsecured loan without any security. Borrower can spend the amount on any of general or private expenses. There is no restriction on the utilization of the loan amount, thus individual may spend the money as per his/her wish. The purpose for taking the personal loan may be to spend amount on any travel plan, or for purchasing of any home furnishing product or to arrange any celebration event etc. Now a days getting a personal loan is very much easier but the main consideration you should keep in mind is the interest rate and other hidden charges.
Features & Benefits
Large amount of Loan
Immediate Loan Disbursement
Low interest rate
No Collateral
Flexible Tenure
The rate of interest on almost all personal loans is fixed throughout the tenure of the loan. The table below shows the indicative rate of interest charged by various banks. The final rate offered by the bank may differ depending on the profile and other evaluation parameters that a bank might choose.
Who is eligible for the business loan?
Any Salaried Individual
Minimum age is 21 years
Must be residing citizen of India.
Total work experience minimum 1 year.
Current Monthly Salary minimum Rs. 25,000/-
Current service experience minimum 6 months.
Documents Required
Passport Size Photograph.
KYC Documents
Salary Slip for last 2 months
Bank Account Statement for last 3 months
If you are required for more financial documents at the time of verification, you will be informed earlier accordingly to enable you to arrange for the same.
| Bank | Eligible Loan Amount for Max Tenure | Age of the borrower | Minimum Work Experience |
| --- | --- | --- | --- |
| SBI Personal Loan | Rs. 15 Lakh for 48 Months | 21 to 58 Years | 24 Months |
| HDFC Bank Personal Loan | Rs. 50 Lakh for 60 Months | 21 to 60 Years | 24 Months |
| ICICI Bank Personal Loan | Rs. 30 Lakh for 60 Months | 23 to 58 Years | 24 Months |
| Bajaj Finserv | Rs. 25 Lakh for 60 Months | 27 to 58 Years | 36 Months |
| Citibank | Rs. 30 Lakh for 60 Months | 23 to 60 Years | 36 Months |
| IDFC Bank | Rs. 25 Lakh for 60 Months | 25 to 60 Years | 12 Months |
| Axis Bank | Rs. 15 Lakh for 60 Months | 21 to 60 Years | 12 Months |
| Tata Capital | Rs. 20 Lakh for 60 Months | 21 to 58 Years | 24 Months |
| Fullerton India | Rs. 20 Lakh for 48 Months | 21 to 58 Years | 36 Months |
| IndusInd Bank | Rs. 25 Lakh for 60 Months | 21 to 60 Years | 24 Months |
| Kotak Bank | Rs. 15 Lakh for 60 Months | 21 to 58 Years | 24 Months |
| RBL Bank | Rs. 20 Lakh for 60 Months | 25 to 60 Years | 36 Months |
| IIFL | Rs. 25 Lakh for 60 Months | 25 to 60 Years | 36 Months |
| HDB Financial | Rs. 20 Lakh for 60 Months | 21 to 60 Years | 24 Months |
| Capital First | Rs. 25 Lakh for 60 Months | 23 to 60 Years | 12 Months |
| Corporation Bank | Rs. 2.50 Lakh for 36 Months | 21 to 58 Years | N/A |
| Canara Bank | Rs. 3 Lakh for 48 Months | 21 to 60 Years | 36 Months |
| Yes Bank | Rs. 20 Lakh for 60 Months | 21 to 60 Years | 24 Months |
| Syndicate Bank | Rs. 2 Lakh for 60 Months | 21 to 58 Years | N/A |
| Indian Overseas Bank | Rs. 15 Lakh for 60 Months | 21 to 58 Years | 36 Months |
| Vijaya Bank | Rs. 6 Lakh for 60 Months | 21 to 55 Years | N/A |
| PNB | Rs. 15 Lakh for 60 Months | 21 to 58 Years | N/A |
| Andhra Bank | Rs. 5 Lakh for 60 Months | 21 to 55 Years | N/A |
| IDBI Bank | Rs. 10 Lakh for 60 Months | 22 to 60 Years | 36 Months |
| Allahabad Bank | Rs. 7.50 Lakh for 60 Months | 21 to 58 Years | 24 Months |
| Federal Bank | Rs. 10 Lakh for 48 Months | 21 to 55 Years | 36 Months |
| Standard Chartered Bank | Rs. 30 Lakh for 60 Months | 23 to 58 Years | 36 Months |
| Bank of Baroda | Rs. 2 Lakh for 36 Months | 21 to 60 Years | 36 Months |
| Dena Bank | Rs. 1 Lakh for 36 Months | 24 to 55 Years | 24 Months |
| Indian Bank | Rs. 5 Lakh for 36 Months | 21 to 58 Years | N/A |
| Union Bank of India | Rs. 5 Lakh for 60 Months | 21 to 58 Years | N/A |
| Bank of Maharashtra | Rs. 1.50 Lakh for 36 Months | 21 to 60 Years | 36 Months |
| Karur Vysya Bank | Rs. 10 Lakh for 36 Months | 25 to 60 Years | 24 Months |