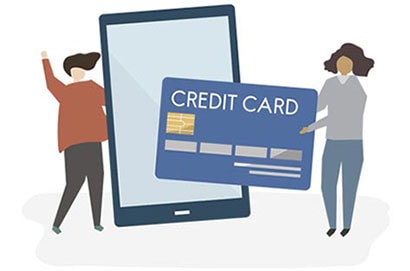 These are the loans provided by the banks and financial institutions to the merchants who are receiving the revenue through a large number of transactions at credit card POS terminal. Benefit of Overdraft facility for amount up to Rs. 90% of the credit card POS amount can be taken to meet the liquidity requirements. This scheme is suitable for businesses with large number of transactions like retail shops, E-commerce, health and beauty, fashion and clothing, restaurants etc.
Features
Large amount of loan up to Rs. 3 crore.
No collateral required.
Very low processing fee.
No prepayment fee.
No fixed EMI.
Eligibility
Any business like sole proprietorship/partnership/private limited company or public limited company.
Minimum credit card sales should be Rs. 60 lakhs.
Business has been in existence from at least 3 years.
Business must be earning profit from last 2 years.
Documents Required
Loan Application Form.
Audit Credit Card Statement for last one year.
Audited Financial Documents for last 2 years.
Identity Proof of authorized person.
Address Proof of authorized person and business establishment.
Business Registration Certificate
Partnership Deed/Article of Association or Memorandum of Association whichever is applicable.
ITR of business
ITR of authorized persons of business like proprietor/partner/director (promoter) for the last year.